Story Progress
Back to home
Crisp Fried Prawns Recipe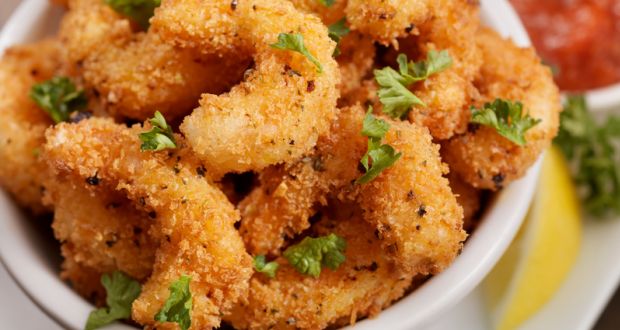 Crisp Fried Prawns: A crisp snack made with prawns, which are marinated in soya sauce, wine and sugar. They are then tossed with a lip-smacking Asian sauce.

Ingredients of Crisp Fried Prawns
12 shelled prawns
2 Tbsp wine/rum
2 Tbsp soya sauce
1 tsp sugar
2 tsp garlic paste
1 tsp ginger paste
2 beaten eggs
2 Tbsp corn flour
25 gm flour oil for deep frying sauce
1 Tbsp oil
1/2 tsp chopped garlic
1/2 tsp chopped red chillies
2 Tbsp chopped spring onion
2 tsp corn flour
1 Tbsp sugar
150 ml water
3 Tbsp tomato ketchup
1 tsp soya sauce
1 Tbsp worcestershire sauce
1 tsp sesame oil
1.
1. Mix prawns with soya, wine, sugar, garlic, ginger and eggs. Marinate it for 30 minutes.
2.
2. Sprinkle in corn flour and flour. Stir to coat.
3.
3. Then deep fry in hot oil until crisp and colored. Serve it with sauce.
4. For the Sauce:
1.
5. Heat oil in a wok, and stir-fry chillies, garlic and spring onions for 30 seconds.
2.
6. Combine remaining ingredients except sesame oil.
3.
7. Stir to thicken, before adding sesame oil.