Story Progress
Back to home
Drumstick Pickle Recipe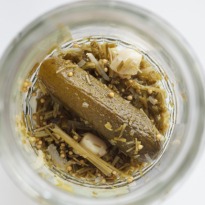 Ditch the mangoes and lemons that have traditionally been packed in pickle jars, here is a new kid on the block - drumsticks. Don't give this one a miss!

Ingredients of Drumstick Pickle
15 drumsticks
1 tsp methi (fenugreek seeds)
3 tsp mustard seeds
20 dried red peppers
1/4 tsp asafoetida
1 Tbsp turmeric powder
100 gm tamarind
2 Tbsp vinegar
3 pods of garlic, peeled
3 Tbsp salt
1 cup refined oil
2 Tbsp sesame oil
1.
Scrape the drumsticks and cut as desired.
2.
Steam them for 5 minutes.
3.
Make a fine paste of methi, sarson, red chilies and tamarind.
4.
Heat oil and add garlic, ground ingredients, heeng, salt and haldi.
5.
Mix well and add drumsticks.
6.
Cook on low flame for 5 minutes. Take it off the stove and cool.
7.
Then add vinegar and sesame oil.
8.
Transfer into a clean jar.
9.
Keep the preparation refrigerated for at least 3 days before serving.