Story Progress
Back to home
Dry Mango Kuzhambu Recipe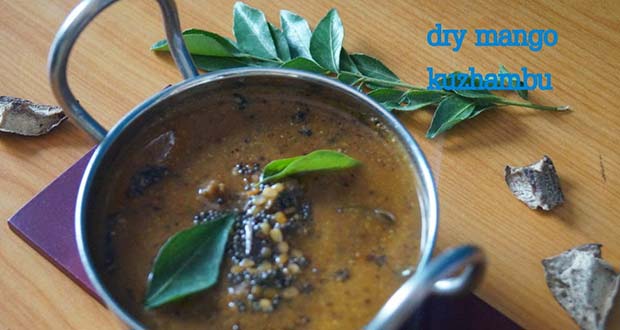 A delicious curry with the tangy combination of mango and tamarind and the perfect punch of spice.

Ingredients of Dry Mango Kuzhambu
Ingredients
12-14 dried mangoes-bits
tamarind-gooseberry shaped ball
salt- to taste
1 pinch of asafoetida
1tsp of sambhar powder
1 sprig curry leaves
To Roast and Grind
2tsp of coriander seeds
3 red chilly
2tsp of tur dal
2tsp of channa dal
2tsp of urad dal
1tsp of Black pepper- 1tsp Cumin/Jeera- 1/2tsp
To Temper
1tsp of mustard seeds
1tsp of urad dal
1 sprig of curry Leaves
1/2 tsp of oil
2.
Dry roast all the ingredients given in the to roast and grind table.Be careful not to burn them.Saute continuosly. Cool and put in a blender. Grind coarsely.
3.
Put the dried mango in water and boil it till they become soft. It should be soft and tender like this.
4.
Meanwhile take out the tamarind extract,put it in a heavy bottomed pan and add salt,asafoetida and sambhar powder to it.Let it boil till the raw smell goes away.
5.
Now add boiled mango pieces.
6.
Add the grounded powder and curry leaves and let it simmer for sometime.
7.
Once thickened temper with some oil, mustard seeds, urad dal and curry leaves. Serve hot with rice.
Notes:
1.
- Soak tamarind the recommended quantity as the mangoes are also sour.
2.
- You can add add more pepper if you want it spicier.
3.
- If you don't have dried mango use fresh mango.