Story Progress
Back to home
Enchiladas Recipe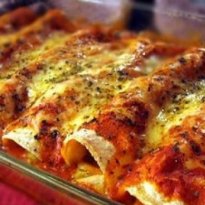 Freshly made tomato sauce smeared over tortillas which are stuffed with juicy chicken chunks, finished with cheese and baked golden. Try it with your favourite dip.
Total Cook Time

1 hr 10 mins

Ingredients of Enchiladas
Enchilada Chicken Marinade:
1 kilo boneless chicken
Juice of 2 lemons
Red chilli powder
1 Tbsp of minced garlic
3-4 Tbsp of red wine
3-4 dashes of Tabasco
1 Tbsp vegetable oil
Dried Oregano
8 spinach whole wheat tortillas
Enchilada Sauce:
2 cloves garlic, charred
1 onion, charred
350 gms tomato puree
2 green chillies, semi deseeded
6 sprigs of coriander
1 Tbsp oil
1 liter water
1/2 tsp salt
Few grindings of black pepper
Topping:
100 gms mozzarella cheese
100 gms cheddar cheese
For Enchilada Chicken Marinade:
1.
Take the chicken in a bowl, and add lemon juice and red chillies and keep aside.
2.
Then add the garlic and keep aside.
3.
After that pour red wine, dashes of Tabasco and honey.
4.
Now take a pan and cook the chicken in a tablespoon of oil. When it's almost done, add dried oregano.
6.
Blend the charred garlic, onion, tomato puree, green chillies and coriander in a mixer.
7.
Heat oil, add this mixture, saute for a few minutes.
8.
Then add the water, salt and pepper, and simmer on low heat for 10 minutes. It will thicken to resemble a creamy texture.
9.
To put together the enchilada, slather sauce on the tortilla, then add the cooked enchilada chicken, roll it and pour enchilada sauce on top.
10.
Then top with the two cheeses.
11.
Stack these in flat bottomed glass bowl and bake till the cheese melts.