Story Progress
Back to home
Falooda Recipe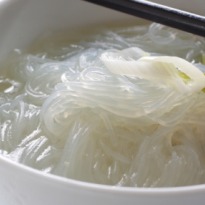 Corn starch noodles made by cooked cornflower pressed against colander, mixed in iced water.

Ingredients of Falooda
1 Tbsp cornflour
Iced water in a pan with a colander on top of it
1.
Mix the cornflour with 1 cup water and bring to a boil, then simmer, stirring all the time.
2.
As soon as it becomes translucent, take it off the heat.
3.
Transfer the cornflour paste on to the colander and press with the spoon so that the pressed paste falls into the iced water in shreds.
5.
Drain and serve with kulfi.