Story Progress
Back to home
Fish Varutharacha Curry Recipe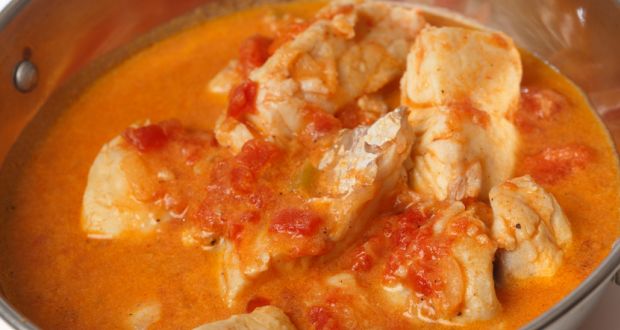 Meen Varutharacha is a fish curry from 'God's own country', Kerala. Marinated pieces of fish cooked in a gravy made with dry coconut, tamarind and red chilli paste. It's fresh, easy and quick!

Ingredients of Fish Varutharacha Curry
1/2 kg mackerel or sardine
100 gm Small onions
1 Ginger
6 Cloves garlic
1 cup Coconut
3 pieces Tamarind
2 Tbsp Chilli powder
3 Tbsp Coriander powder
1 tsp Pepper powder
1 tsp Fenugreek powder
1 Tbsp Coconut oil
Salt to taste
Curry leaves
1.
1. Cut the fish into small pieces of 1 inch thickness.
2.
2. Soak tamarind in water. Marinate the fish with turmeric and salt and keep aside.
3.
3. Take a pan and add 1 tsp coconut oil and add the scraped coconut and fry. When it is dry add small onions and continue to fry.
4.
4. Fry till the coconut has a dark brown color. Take care not to burn it.
5.
5. Then add the chilli and coriander powder and fry for some more time. Turn off the stove and add the garlic and ginger.
6.
6. Allow the mixture to cool. Then grind to a fine paste in a mixie with water.
7.
7. Take a vessel, add the paste, tamarind and water. Bring to boil on a high flame and add salt.
8.
8. Reduce the flame and add the fish pieces. Cook covered. After 5 minutes add the pepper powder and cook uncovered on high flame for 3 minutes.
9.
9. Reduce the flame and add 1 Tbsp of coconut oil and the curry leaves.
10.
10. Give the vessel a turn and off the flame.
11.
11. Add the fenugreek powder, and keep covered on the stove for 10 minutes.
12.
12. Give the vessel a shake after that and keep covered.