Story Progress
Back to home
Frans Bean Aloo Recipe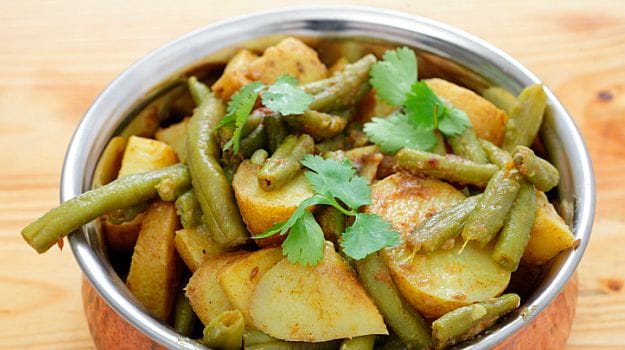 How to make Frans Bean Aloo
French beans and potatoes sauteed in butter, tomatoes, ginger and spices. Bon appetit!

Ingredients of Frans Bean Aloo
500 gm french beans
250 gms potatoes--peeled and diced
1/4 cup clarified butter
1 tsp cumin seeds
1/4 tsp asafoetida
1 tsp finely chopped ginger
2 medium sized tomatoes-grated
2 tsp coriander powder
Salt to taste
1/2 tsp turmeric
1/2 tsp chilli powder
1/4 tsp garam masala
1.
Wash and string the beans. Cut them into small, horizontal pieces.
2.
Heat the clarified butter in a heavy-based pan.
3.
Add the cumin seeds and the asafoetida.
4.
When the seeds splutter, add the ginger and sauté till slightly brown.
5.
Add the tomatoes and stir-fry till the fat separates.
6.
Add the coriander powder, salt, turmeric, chilli powder and garam masala.
7.
Add the beans and potatoes and saute over high heat till they look glossy.
8.
Lower heat, cover and cook till tender, stirring occasionally to ensure that it does not scorch.