Story Progress
Back to home
Mixed Bean Salad Recipe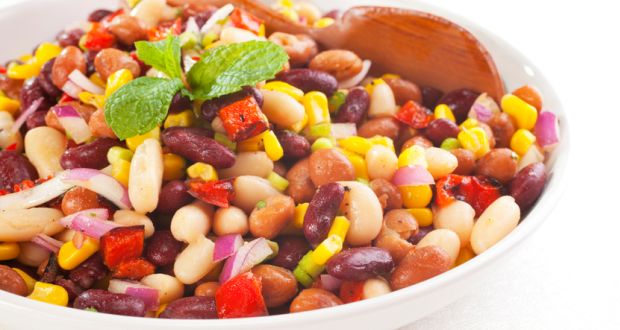 How to make Mixed Bean Salad
Mixed Bean Salad Recipe: A fresh spin on salad - dried beans, capsicum and tomatoes dressed in sweet and sour flavours.

Ingredients of Mixed Bean Salad
200 Gram Assorted dried beans
2 Segmented sweet limes
1 Capsicum, shredded
2 Tomatoes, shredded
2 Onions, sliced
For the dressing:
1 Raw mango, pureed
4 tbsp Olive oil
1-2 tbsp Honey
4 tbsp Coriander, chopped
2 Green chillies, chopped
to taste Salt and pepper
1.
Cook the beans in boiling water until tender.
2.
Toss the cooked beans and sweet lime in a bowl.
3.
Combine all the dressing ingredients. Whisk and season well.
4.
Pour the dressing on the salad and let it chill in the fridge overnight.
5.
Add tomatoes, capsicum and seasoning before serving.
6.
Garnish with onion rings and serve.