Story Progress
Back to home
French Toast Recipe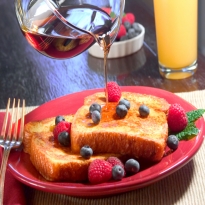 How to make French Toast
Start your day with this tasty french toast. Bread dipped in egg batter, sugar, butter and honey and cooked till golden. Served with cut fruits and dusted with icing sugar.

Ingredients of French Toast
1 cup half and half
3 large eggs
2 Tbsp honey - warm
1/4 tsp salt
8 stale country loaf
4 Tbsp butter
1.
In medium size mixing bowl, whisk together the half-and-half, eggs, honey, and salt.
2.
When ready to cook, pour mixture into a pie pan and set aside.
3.
Preheat oven to 375 degrees F.
4.
Dip bread into mixture, allow to soak for 30 seconds on each side, and then remove to a cooling rack that is sitting in a sheet pan, and allow to sit for 1 to 2 minutes.
5.
Over medium-low heat, melt 1 tablespoon of butter in a 10-inch nonstick saute pan.
6.
Place 2 slices of bread at a time into the pan and cook until golden brown, approximately 2 to 3 minutes per side.
7.
Remove from pan and place on rack in oven for 5 minutes.
8.
Repeat with all 8 slices. Serve immediately with maple syrup, whipped cream or fruit.