Story Progress
Back to home
Fusilli, Black Olive and Feta Pasta Salad Recipe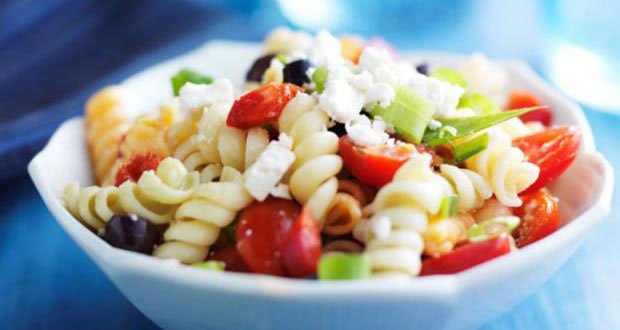 How to make Fusilli, Black Olive and Feta Pasta Salad
A simple yet satisfying recipe with the goodness of black olives and cherry tomatoes, tossed up with fusilli and feta, and dressed in balsamic vinaigrette.

Ingredients of Fusilli, Black Olive and Feta Pasta Salad
1 Cups Fusilli, boiled
1/2 cup Black olives, sliced
1/2 cup Feta (cubed)
1/2 cup Cherry tomatoes (cubed)
1/4 cup Spring onions, chopped
For the dressing:
1 tbsp Olive oil
1 tbsp Balsamic vinegar
to taste Salt and pepper
Prepare the dressing:
1.
In a mixing bowl, whisk olive oil and vinegar until they emulsify.
2.
Add the seasonings and whisk again.
Prepare the salad:
1.
In a large salad bowl, toss together pasta, olives, cherry tomatoes, spring onions and feta.
3.
Check seasoning and serve.