Story Progress
Back to home
Fusilli Tomatina Recipe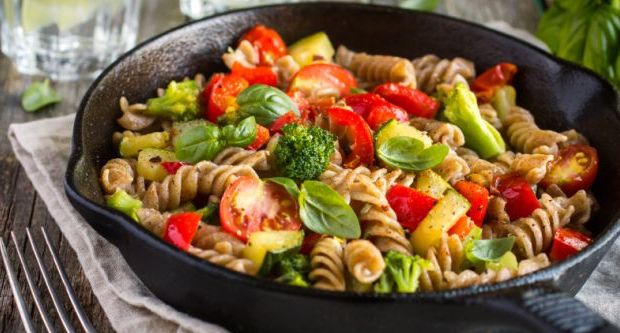 Fusilli Tomatina Recipe: Fusilli pasta cooked in a herb-y, tomato-based, sensational sauce makes an easy and anytime meal.

Ingredients of Fusilli Tomatina
200 Gram Fusilli pasta
Water, for boiling
to taste Salt
4 tbsp Oil
3 medium Tomato, chopped
1 Green chilli, , chopped
6 Cloves of garlic, finely chopped
1 Spring onion, chopped
2 Onions, chopped
2 pinches Dried herbs
2 tbsp Tomato sauce chilli sauce, optional
A few sprigs of parsley for garnish
For pasta:
2.
In the boiling water, add 2 tsp salt and 1 Tbsp oil.
3.
When the water is past boiling point, add the pasta. Keep stirring.
4.
Cook for 10-12 minutes or until al dente. Drain and use immediately.
5.
If using later, drizzle with oil and keep aside.
For sauce:
1.
Take 3 Tbsp oil in a pan and add the chopped garlic.
3.
When it starts giving out a little aroma, add the chopped onions and fry for 1 minute.
4.
Add the chopped green chillies, spring onions and chopped tomatoes and fry for another 1 minute.
5.
Now add the boiled pasta, salt to taste and sauce.
6.
Add a little chilli sauce if spicy is preferable.
7.
Garnish with parsley and serve hot.
8.
Note: You may also add diced mushrooms and broccoli for a more wholesome meal.