Story Progress
Back to home
Gousse d' Ail (Mushroom on Toast) Recipe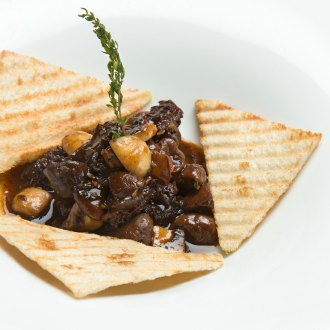 Three types of mushrooms cooked together with garlic, sherry, truffle oil and one of the most important ingredients, butter. They go perfectly on well toasted bread and make a great appetizer or even main course if you're in the mood for something different.

Ingredients of Gousse d' Ail (Mushroom on Toast)
400 gms button mushrooms, halved
100 gms portobello mushroom, sliced
100 gms dried porcini mushrooms, soaked and chopped
40 gms dried morels, soaked and chopped
8 cloves garlic, chopped
50 gms onion, chopped
2 Tbsp olive oil
50 ml sherry
Salt to taste
Ground black pepper to taste
5 ml truffle oil
30 gms butter
4 pieces of bread, sliced in half
1.
1. Heat the oil in a large saucepan. Add the chopped onions, garlic and saute for a few minutes.
2.
2. Add the mushrooms and toss gently. Cook the mushrooms until tender, for about 8 minutes.
3.
3. Add the sherry, parsley, salt, and pepper. Cook for another 5 minutes, or until mushrooms are soft and finish with butter and truffle oil.
4.
4. Check for seasoning and serve hot with toasted white bread on top.