Story Progress
Back to home
Grape Chicken Recipe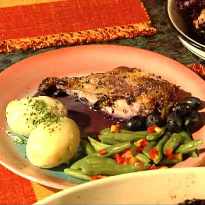 An unusual dish of chicken cooked with pureed grapes with a sauce of chicken stock and the grape juice

Ingredients of Grape Chicken
1 kg black grapes
8 boneless chicken breasts with skin
Salt and pepper
4 Tbsp melted butter
350 ml chicken stock
Garnish:
Chopped parsley
Extra grapes
1.
Blend grapes in a food processor and strain.
2.
Place skin and seeds in a baking dish under chicken. Reserve juice.
3.
Season chicken well and coat with melted butter.
4.
Bake at 190 degree C for 10-15 minutes or until chicken is tender.
5.
Remove chicken from tray.
6.
Pour juice from tray into a saucepan with chicken stock and remaining grape juice.
7.
Cook over high heat till the sauce reduces.
8.
Strain and pour over chicken.