Story Progress
Back to home
Hara Masala Kebabs Recipe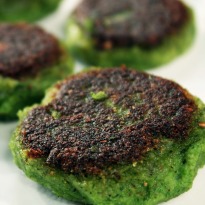 Kebabs made from green peas, potatoes, spinach and spices. Vegetarian and garden fresh.

Ingredients of Hara Masala Kebabs
2 tsp cumin seeds
2 tsp coriander seeds
4 boiled potatoes
Salt to taste
1 knob ginger
2 cloves garlic
A small bunch fresh coriander
A small bunch parsley
1 green chilli
1 lime
1 tsp turmeric powder
1 tsp chaat masala
50 gm spinach
100 gm green peas
4 Tbsp cornflour
4 Tbsp bread crumbs
Salt to taste
2 tsp oil to shallow fry
1.
Boil the water with salt. Add spinach and green peas into it .
2.
Strain them and keep them in cold water for sometime.
3.
Dry roast cumin and coriander seeds together in a pan. Pound them in a mortar and pestle.
4.
In a blender add boiled potatoes, salt, dry roasted spice, fresh ginger, garlic, fresh coriander, parsley, green chilly, lime, turmeric powder, chaat masala, blanched spinach and green peas and little refined oil. Blend them together .
5.
Put them in a bowl. Add salt, corn flour, bread crumbs, lime juice. Mix them well.
6.
Make round patties of it.
7.
Fry the kebabs in a little refined oil.