Story Progress
Back to home
Japanese Soba Noodles Recipe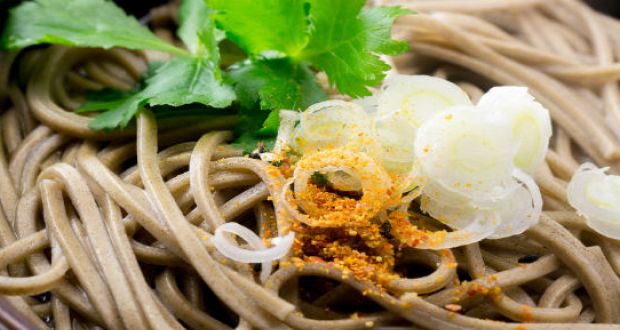 How to make Japanese Soba Noodles
Easy to make, these noodles taste delicious when stir-fried with teriyaki sauce. Throw in some veggies like mushrooms and carrots, caramalised pork strips (if you like) or just dunk them in dashi.
Total Cook Time

1 hr 25 mins

Ingredients of Japanese Soba Noodles
For the Noodles
4/5 cup buckwheat flour
1/5 cup wholewheat flour
1/2 cup hot water
A pinch of salt
Starch or cornflour, for dusting
For Stir-frying
2 Tbsp teriyaki sauce
2 onions, thinly sliced
2 carrots, julienned
2 Tbsp oil
A few sprigs spring onions, chopped
250 gm button mushrooms, roughly chopped
Salt to taste
Prepare the Noodles:
1.
Sift together the buckwheat, wheat flour and salt in a large mixing bowl.
2.
Pour the water, a little at a time, and start rubbing the flours with your fingers. Work it well to bring it together to form a dough. Knead well, if it gets dry, add a little water and knead again.
3.
Cover with a moist kitchen towel and keep it in the refrigerator for 30 minutes.
4.
Take it out, and knead again. Divide into 4 balls, and dunk each ball in cornflour or starch before rolling it out. Use a big rolling pin, try to make the dough as thin as possible, but be careful as it may get a little crumbly and crack. A clever trick is to roll it as much as you can, then cut it into a rectangular sheet to remove the cracks. Keep sprinkling some corn flour to prevent it from sticking.
5.
Layer all the rectangular sheets, making sure that you have sprinkled enough cornflour in between the layers. Using a large knife, carefully slice the dough to make thin strips.
6.
Bring a large saucepan of water to a boil and cook the noodles in small batches for 2 minutes.
7.
Heat oil in a wok, and stir-fry the onions for 3-4 minutes until softened. Add the mushrooms and carrots and toss well.
8.
Add the noodles and teriyaki sauce and mix well. Let it cook for 2 minutes.
9.
Season with salt and tip in the spring onions. Toss well and serve immediately.