Story Progress
Back to home
Keerai Masial Recipe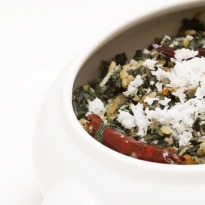 An easy recipe of fresh spinach leaves tossed with yellow lentil.

Ingredients of Keerai Masial
300 gms spinach
50 gms moong dal
50 gms onion
Ghee
05 gms cumin(whole)
05 gms turmeric
05 gms garlic
05 gms salt
03 gms red chilli (whole)
05 gms mustard seeds
02 gms curry leaves
1.
Wash moong dal and boil it with salt and turmeric until gets soft. Strain it through a strainer and leave it to cool.
2.
Meanwhile wash, boil and chop the spinach.
3.
Heat up ghee in the pan. Add all the whole spices, mustard seeds, curry leaf, garlic and onion. Saute until it starts to brown.
4.
Slowly add spinach and lentil to the pan, saute over high heat.
5.
Adjust the seasoning and serve.