Story Progress
Back to home
Kesari Bhat Recipe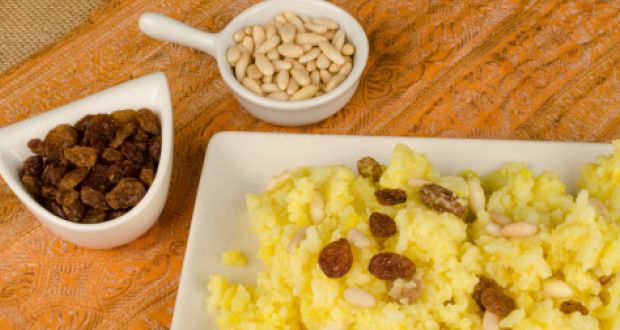 This rice based Indian dessert is full of flavors! The saffron gives it a welcoming color.
Total Cook Time

1 hr 05 mins

Ingredients of Kesari Bhat
1 cup sela chawal (parboiled rice)-picked, washed and soaked for about an hour
1 1/4 cup sugar
4 cups water
1/2 tsp kesar (saffron)-soaked in hot milk
2-3 laung (cloves)
4 chhoti elaichi (green cardamoms)
10-12 raisins
5 almonds shredded
1/4 cup (60 gm) ghee(clarified butter)
1.
1. Bring the water to a boil and add the drained out rice. When it comes to a boil, lower the heat and simmer till the rice is almost cooked (about 12 minutes). Drain the rice and rinse twice-in cold water and leave in a colander to drain.
2.
2. In a heavy based pan, heat the ghee and fry the raisins and the almonds and saute till they change colour a little. Remove the nuts and keep aside and add the rice, milk mixture, laung and elaichi. In the same ghee and mix well.
3.
3. Lower the heat, remove half the rice and sprinkle half the sugar, and then layer the rest of the rice and the rest of the sugar over it. Put the lid on and place the pan over a griddle (tawa) over low heat for about 1/2 an hour.
4.
4. Serve hot, garnished with the raisins and the nuts.