Story Progress
Back to home
Khumb-e-Gobhi Recipe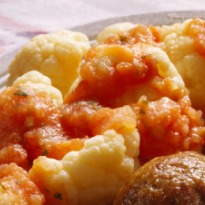 Cauliflower florets boiled and sploshed with a tomato-mushroom sauce.

Ingredients of Khumb-e-Gobhi
1 Cauliflower
2 Cups Tomatoes, finely chopped
1 tsp Mustard seeds
2-3 Whole red chillies
3-4 Curry leaves
1 tsp Ginger, finely chopped
1 tsp Sugar
1/4 tsp Garam masala
1/2 tsp Chilli powder
2 tsp Salt
1 Cup Mushrooms, finely chopped
2 Tbsp Coriander leaves
1.
Remove leaves of the cauliflower and slice off the bottom to make it sit flat.
2.
Steam the cauliflower or cook in boiling, salted water and keep aside until further use.
3.
Heat oil and add mustard seeds, red chillies and curry leaves.
4.
Add ginger and when slightly brown, add tomatoes, sugar, garam masala, red pepper and salt.
5.
When the oil separates, add mushrooms and turn around a few times.
6.
Pour this mixture over the warm cauliflower, garnish with coriander leaves and serve.
Key Ingredients: Cauliflower, Tomatoes, Mustard seeds, Whole red chillies, Curry leaves, Ginger, Sugar, Garam masala, Chilli powder, Salt, Mushrooms, Coriander leaves