Story Progress
Back to home
Kova Ladoo (Andhra-Style Coconut Ladoo) Recipe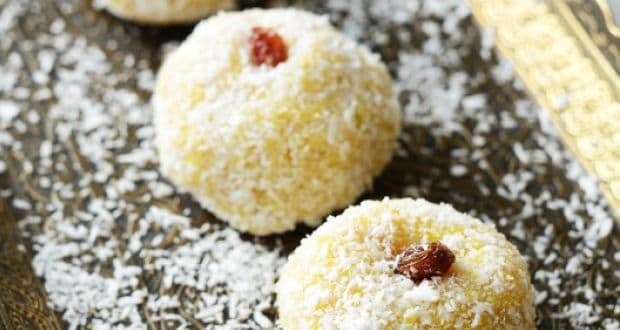 How to make Kova Ladoo (Andhra-Style Coconut Ladoo)
Fresh coconut, jaggery and ghee are the major elements of these Andhra-style ladoos. They are super easy to make and spell indulgence in every bite!

Ingredients of Kova Ladoo (Andhra-Style Coconut Ladoo)
For stuffing:
2 tbsp Ghee
3 cups Freshly grated coconut
1.5 cups Jaggery
1/2 cup Cardamom powder
For outer layer:
1 cup Khoya
5 tsp Powdered sugar
1.
Heat ghee in a pan and add coconut and jaggery. Mix on medium flame until jaggery melts.
2.
Prepare a moist, sticky stuffing and let it cool down. Meanwhile, take in a pan and roast for a minute.
3.
Add powdered sugar and mix until it turns gooey. Transfer on a plate and knead a soft dough.
4.
Cut small roundels and flatten the khoya mix. Add the stuffing and cover. Gently smoothen the ladoo.
5.
Let the ladoos rest and for some time and then store in airtight jar.