Story Progress
Back to home
Lamb Shanks Curry Recipe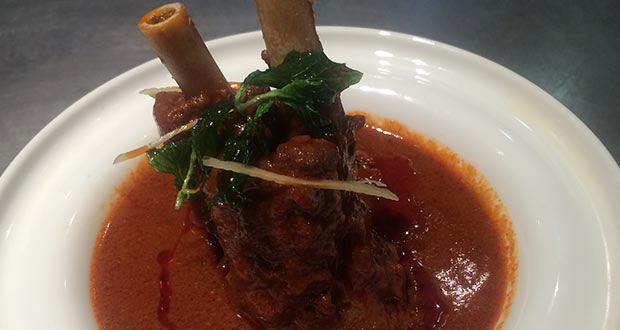 Host a party and entertain a crowd with this lovely lamb curry with tender meat, spices, tangy tomato puree and soothing curd.
Total Cook Time

1 hr 10 mins

Ingredients of Lamb Shanks Curry
4 Tbsp of vegetable oil
1 stick of cinnamon
4 pieces green cardamom
6 pieces cloves
5 small onions, peeled and finely sliced
4 lamb shanks
2 tsp ginger garlic paste
1 tsp turmeric
1 tsp chilli powder
1 tsp cumin seeds, crushed
1 Tbsp coriander seeds, crushed
4 Tbsp of plain curd
60 gm tomato puree
1/2 Tbsp of garam masala, powder
Handful of coriander, leaves
Salt to taste
1.
Heat oil and add the cinnamon, cardamom and cloves and sauté until the spices become fragrant.
2.
Add the sliced onions and cook over a medium heat, until they are golden brown.
3.
Add the lamb shanks and on a high heat brown the meat on all sides. Remove the meat and set to one side.
4.
Stir fry the ginger garlic paste well for a couple of minutes and then add the turmeric, chilli, cumin and coriander powders and salt.
5.
Add the tomato puree and stir leave to simmer for 20 minutes to create a thick masala paste. Once the onions have amalgamated into the sauce, stir in the yoghurt, a little at a time, until combined.
6.
Put the shanks back into the pan and coat with the masala. Reduce the heat and leave this to cook for about 30 minutes.
7.
Add enough hot water to cover the meat on the shanks and bring to a boil. Reduce to a simmer and cover with a lid.
8.
Leave the meat to cook until the lamb is soft, approximately 1 hour. Remove the pan from the heat and let the lamb shanks to cool in the sauce then remove the shanks and strain the sauce into a second pan.
9.
Heat the strained sauce for a about 10 minutes until it has reduced and thickened a little. Check the seasoning and adjust if required.
10.
Put the cooked lamb shanks back into the sauce and simmer together for about 10 minutes to heat through.
11.
Sprinkle with garam masala and some chopped coriander leaves.