Story Progress
Back to home
Luchi Recipe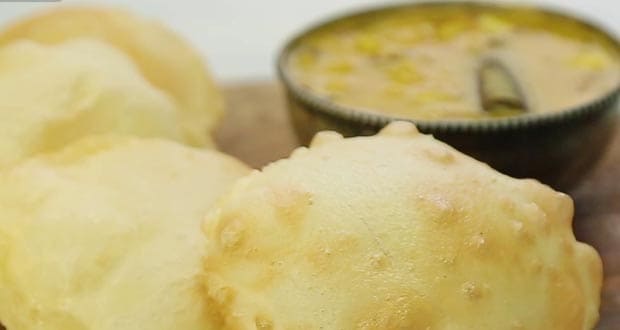 How To Make Luchi
NDTV Food
About Luchi Recipe: Luchi is a deep fried Indian yeast free flatbread which gets puffed up during frying, very similar to poori. It is a popular breakfast staple in Bangladesh and in Indian states like West Bengal, Orissa and Assam, specially made during Durga Pooja celebration. Luchi is very easy to prepare and is best served with curries or gravies.

Ingredients of Luchi
1 Cup maida
1/2 tsp salt
1 tsp ghee
1/2 cup water
1.
In a deep bowl mix all purpose flour (maida), salt, ghee and water to prepare a soft dough. 2.
Gradually add water as required for kneading the flour.
3.
Divide the dough into equal small portions and make balls to roll it out. 4.
Before rolling each ball dip it a little in water or oil from one side to avoid stickening. 5.
Now roll each ball into a circle of equal size. 6.
Heat oil in a pan or kadhai on high flame. 7.
When the oil is perfectly hot, slide the Luchi in the hot oil for frying it. 8.
Luchi will begin to puff up. Cook on both the sides and avoid burning it. 9.
Drain it on the paper towels to remove the excess oil.
10.
Serve the hot Luchi immediately with aloo ki sabzi or any other curry of your choice. Watch the step by step recipe of Luchi here: