Story Progress
Back to home
Kairi Curry with Khoba Roti Recipe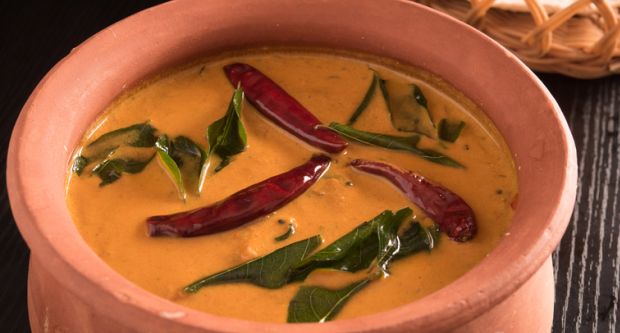 About Kairi Curry with Khoba Roti: Relish the unusually ecstatic flavours of this Rajasthani raw mango curry along with the traditional Khoba roti.

Ingredients of Kairi Curry with Khoba Roti
450 gm raw mangoes (kairi), cut into wedges with skin
2-3 Tbsp mustard oil
1 tsp cumin seeds
1 tsp fennel seeds
1 tsp onion seeds
2 bay leaves
1/4 tsp asafoetida
2 Tbsp gram flour
1/2 tsp turmeric powder
1 tsp red chilli powder
1 tsp coriander powder
Salt to taste
1 Tbsp grated jaggery
Fresh coriander sprigs for garnishing
For khoba roti:
3 cups coarse whole wheat flour + for dusting
Salt to taste
1/3 cup ghee-as required
For kairi ki curry:
1.
Heat mustard oil in a non-stick pan till it smokes.
2.
Add cumin seeds, fennel seeds and onion seeds, saute till the seeds crackle.
3.
Add broken bay leaves and saute.
4.
Add asafoetida, gram flour, turmeric powder, red chilli powder and coriander powder and mix well.
5.
Add raw mangoes and a little water, mix well and cook for 2-3 minutes.
6.
Add salt, mix well, cover and simmer for 10 minutes
7.
Add jaggery to kairi ki curry and mix well.
8.
Cook till the jaggery melts completely.
9.
Transfer the curry in a serving bowl, garnish with coriander sprigs and serve hot with khoba roti.
For khoba roti:
1.
Combine flour, salt and ghee in a bowl.
2.
Add water as required and
3.
Knead into a stiff dough, set aside for about 15 minutes.
4.
Divide the dough into equal portions, place them on a dusted worktop and roll out into 6inch diameter rotis.
5.
Pinch on the surface to get indentation all over, using ghee.
6.
Heat a non-stick tawa and place roti on it, indent side down.
7.
Cook on low heat till evenly browned and cooked.
8.
Flip, drizzle some ghee all over and cook till other side is evenly browned and cooked.