Story Progress
Back to home
Mix Fruit Rice Phirnee Recipe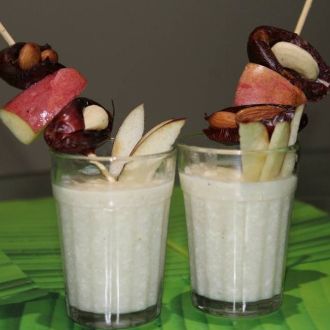 This delicious milk and rice based creamy dessert, has a thick texture that melts in your mouth. This simple and short recipe brings together generous quantities of chopped dry fruit and fresh fruit. Serve chilled with a garnish of crushed cardamom.

Ingredients of Mix Fruit Rice Phirnee
275 ml milk
2.5 Tsp rice flour
2 Tbsp almonds - chopped
2 Tbsp pistachios - chopped
1 green cardamom - crushed
150 gms sugar
Mixed Fruits diced -For garnish and fruit skewers.
1.
Heat the milk in a pan till it comes to a boil, and then simmer.
2.
Add the rice flour while stirring continuously to prevent lumps.
3.
Add sugar and continue stirring till it begins to thicken.
4.
Mix in the chopped dry fruits.
5.
Pour the mixture into the serving glasses.
6.
Garnish with chopped dry fruits and crushed cardamom.
7.
Place diced fruits over the mixture or use a fruit skewer.
8.
Refrigerate for 2-3 hours. Serve chilled.