Story Progress
Back to home
Mixed Vegetable Gratin Recipe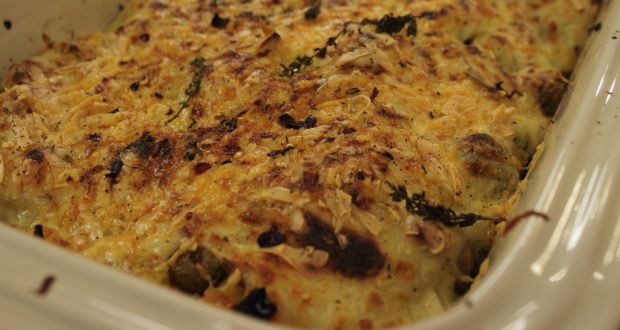 How to make Mixed Vegetable Gratin
About Mixed Vegetable Gratin Recipe: Savour the rich flavors of vegetables, topped with Bechamel sauce and sprinkled with cheddar cheese.
Total Cook Time

1 hr 15 mins

Ingredients of Mixed Vegetable Gratin
18-19 Baby potatoes (par-boiled)
500 gram Pumpkin (par-boiled)
1 Cauliflower (par-boiled)
2 Sweet corn cobs
Salt & pepper
1 tsp Chilli flakes
3 tsp Cumin
2 tsp Coriander seeds
2 tbsp 2 Tbsp butter
Few Thyme sprigs
Béchamel sauce
100 gram Cheddar cheese
50 gram Processed cheese
For the Bechamel sauce:
3 tbsp Butter
500 ml Milk
Fresh thyme sprigs
5 tbsp Flour
Salt and pepper
1/2 tsp Nutmeg
1.
Pre-heat the oven at 180 degrees.
2.
Halve par boiled baby potatoes.
3.
Heat the pan and then add 2 Tbsp of butter.
4.
Add a handful of par boiled baby potatoes and par boiled pumpkin chopped.
5.
Add 1 bowl of frozen sweet corn and par boiled cauliflower cut into florets.
6.
Then add salt & pepper, 1/2 tsp of chili flakes, 3 tsp of cumin seeds, 2 tsp of coriander seeds and some sprigs of thyme.
7.
Cook till the vegetables are soft. After some time toss and turn off the heat.
8.
Transfer the cooked vegetables to a baking dish and pour the Bechamel sauce on top.
9.
Layer it with some grated processed and cheddar cheese.
10.
Add fresh thyme, 1/2 tsp of chili flakes and pepper on top.
11.
Put the gratin into the pre-heated oven for 10-15 minutes and serve.
Prepare Bechamel sauce:
1.
Heat 3 Tbsp butter in a pan.
2.
Add some sprigs of fresh thyme and mix.
3.
Then add 5 Tbsp of flour.
4.
Whisk till it turns into a thick paste.
5.
Then add 500 ml milk and continue to whisk till it gets into a smooth consistency.
6.
Season it with pepper, salt and nutmeg to taste.