Story Progress
Back to home
Mohanthal Recipe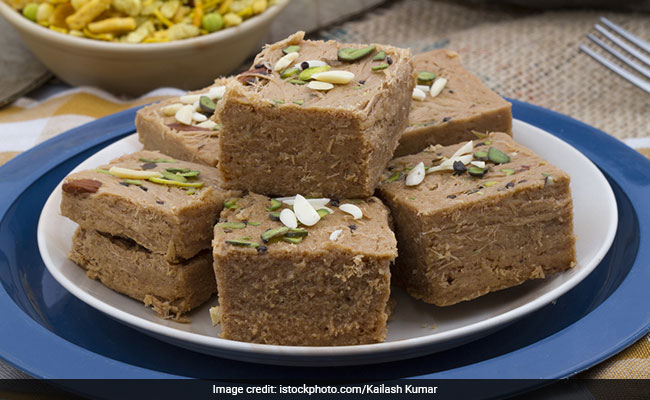 How To Make Mohanthal
About Mohanthal Recipe: Mohanthal is an Indian dessert prepared in many auspicious occasions especially during Diwali. It is popular in Gujarat. Gram flour, khoya, milk and nuts mixed together to form square barfis.

Ingredients of Mohanthal
250 gms flour (besan)
1 tbsp ghee
3 tbsp milk (mixed to a crumbly consistency)
50 gms khoya
200 gms sugar
1/2 tsp cardamom powder
150 gms ghee
For garnishing:
Almonds
Pistachios
1.
Put sugar and half a cup of water over low heat and stir till sugar dissolves (do not let it come to a boil).
2.
When it dissolves let it boil and cook till hard ball consistency. Drop a drop into cold water and it should form into a hard lump.
3.
While sugar is cooking, cook khoya over low heat, stirring all the time, till crumbly. Heat ghee and add the gram flour mixture and saute till a light brown.
4.
Add cardamom, mix well and remove from heat.
5.
Add syrup and stir gently to mix well. Transfer to greased thali, pat to level, garnish with almonds and pistachios.
6.
Cool and cut into squares and store into air tight containers.