Story Progress
Back to home
Granola Bars Recipe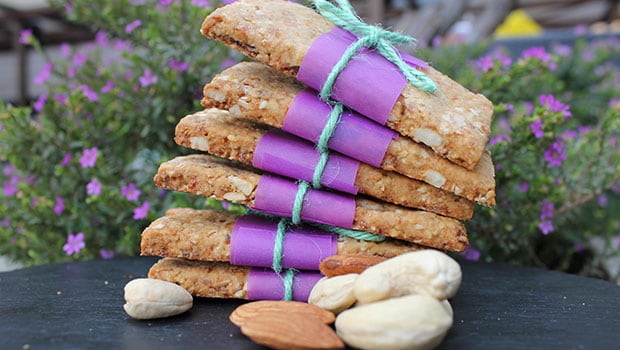 How to make Granola Bar
These crunchy, healthy and easy to bake Granola Bars are exactly what you need when you are hungry during the middle of the day and reach out to order anything but healthy. Made with oats and filled with nuts, this delicious granola bar recipe will satiate your hunger and make you feel proud for choosing healthy!

Ingredients of Granola Bars
800 Gram Rolled oats
3 gram Salt
200 gram Almonds (or other nuts), chopped
2 gram Ground cinnamon
30 gram Wheat flour
30 gram Butter
120 ml Honey
1 tsp Vanilla extract
1.
Heat oven to 300 degrees.
2.
Combine oats, nuts, salt, cinnamon and flour in a large bowl and set aside.
3.
Combine oil, honey and vanilla in another, smaller bowl.
4.
Now mix wet ingredients into dry - you may need to use your hands.
5.
Then spread the mixture onto two cookie sheets lined with foil or parchment.
6.
Bake for 10 minutes. Then remove from oven and stir.
7.
Bake an additional 10 minutes or until slightly golden.
8.
Remove from oven and allow to cool completely.