Story Progress
Back to home
Mutton and Eggplant Lasagne Recipe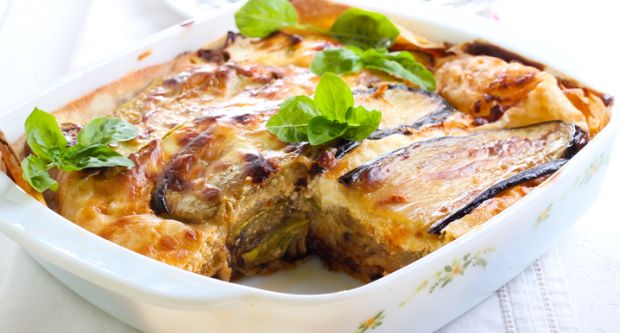 How to make Mutton and Eggplant Lasagne
About Mutton and Eggplant Lasagne Recipe : A delightful Italian dish with layers of meat sauce, eggplant, lasagne and cheese.
Total Cook Time

1 hr 01 seconds

Ingredients of Mutton and Eggplant Lasagne
For the meat sauce:
1/2 Cup olive oil
2 onion, chopped
1/2 Kg minced mutton
1/2 celery, chopped
1 garlic, chopped
1/2 carrot, chopped
1 Cup tomato puree
1 Cup red wine
2 tomatoes
2-3 leaves of rosemary
4-5 leaves of basil
For the eggplants:
2 eggplants
1 green chilli
1/2 Cup vinegar
1/2 Cup olive oil
Chilli flakes to taste
2-3 bay leaves
A pinch of white pepper
For the White sauce:
100 Ml flavored milk
10 Gram butter
2 Tbsp maida
4-5 cloves
1 onion
1/2 nutmeg, grated
A pinch of white pepper
For the lasagne:
6 Cups water
4 sheets lasagne
1/2 Cup olive oil
Parmesan cheese, grated
Grated Mozzarella cheese
1 cube butter
For the meat sauce:
1.
Take a pot, add half a cup of olive oil, minced meat, one chopped onion, celery, garlic, carrot, tomato puree, red wine, tomatoes and leave it to cook. Garnish it with basil and rosemary.
2.
Meanwhile, take a plate, slice 1 bay leaf, chopped eggplant, add salt and chilli flakes to taste, vinegar, olive oil and a pinch of white pepper. Mix the eggplants well with all the spices.
3.
Heat up a pan and fry the eggplant to give it a firm texture. Keep aside.
For the white sauce:
1.
In a pan add 100 ml of milk, onion studded with cloves, 1 bay leaf (tej patta). Keep aside.
2.
In another pan add butter and maida. Mix well, don't make the maida too brown. Filter the milk into this pot and add salt, pepper and grated nutmeg. Cook till it thickens and reaches a sauce consistency.
For the lasagne:
1.
In a pan boil 6-7 cups of water. Add lasagne for few minutes. Take out the lasagne from the pot and add olive oil to it so that it doesn't stick to each other.
2.
In a flat bowl, make the first layer of meat sauce and add some cheese. Then add lasagne and some more cheese. Add another layer of eggplant and more lasagne. Sprinkle some more cheese. Add some butter on the top and sprinkle some rosemary.
3.
Keep the pan in the oven at 130 degree for 30 minutes. Serve it hot.