Story Progress
Back to home
Mysore Chilli Chops Recipe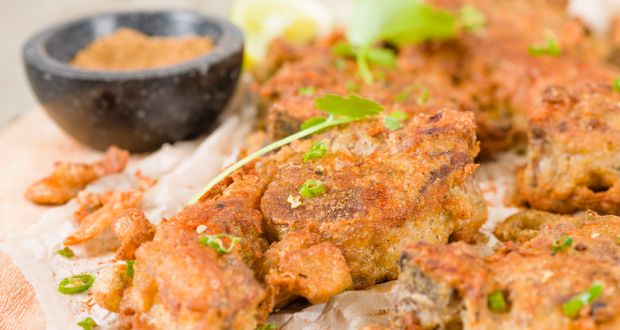 How to make Mysore Chilli Chops
About Mysore Chilli Chops Recipe: Lamb cutlets marinated in variety of spices with a burst of red chillies, wrapped in sesame seeds and grilled golden.

Ingredients of Mysore Chilli Chops
8 Lamb cutlets
1 tbsp chilli powder
1/2 tbsp turmeric powder
1/2 cup coriander powder
1/4 tbsp garam masala powder
1 Fresh curry leaves sprig
to taste salt
20 ml vinegar
1 tsp tamarind paste
1/2 tbsp crushed ginger paste
1/2 tbsp crushed garlic paste
1-2 tbsp white sesame seeds
1/2 Lemon (juiced)
1.
Mix together all the dry ingredients with vinegar, tamarind, ginger and garlic pastes.
2.
Apply on the lamb cutlets and keep aside for 10 minutes.
3.
Lightly crumb the cutlets with sesame seeds and cook on a hot-plate or grill till done.
4.
Squeeze the lime juice on the hot cutlets and serve hot with a raita or a salad.