Story Progress
Back to home
Paneer in White Gravy Recipe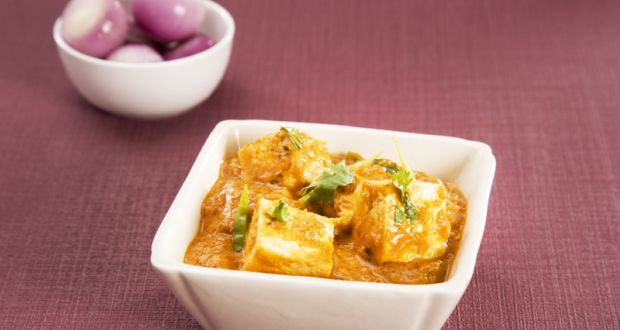 How to make Paneer in White Gravy
Here's a creamy paneer dish that you just can't get enough of! Paneer cubes cooked in rich gravy made with cashew nuts, khoya, cream, curd and coconut.

Ingredients of Paneer in White Gravy
1 kg paneer-cubed
300 gm white onions
20 gm ginger
20 gm garlic
12 green cardamom
5 gm white pepper powder
20 gm desiccated coconut
50 gm cashew nuts
250 gm curd
150 gm khoya
150 gm cream
250 gm ghee
2 drops kewra jal
Salt to taste
1.
Extract the juice of ginger and garlic and keep aside.
2.
Grind onions separately, and the cashew nuts and coconut to a fine paste.
3.
In a heavy bottomed pan place the ground paste, add salt, green cardamoms, ginger garlic juice and bring to boil, then simmer.
4.
Cook until dry. Then add ghee and the beaten curd, and cook till fat separates.
5.
Add the nut paste and fry for 2 to 3 minutes, taking care that the masala does not brown.
6.
Then add white pepper and 1 1/2 cups of water, or enough to make a thick gravy.
7.
Add paneer Simmer for a while. Remove from fire add kewra jal, and mashed khoya. Blend well.
9.
Serve hot garnished with silver leaf. Roomali roti is a good accompaniment for this dish.