Story Progress
Back to home
Paneer or Cottage Cheese Recipe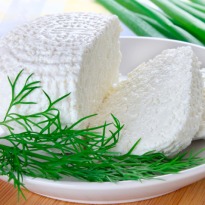 A basic recipe of how to make soft cottage cheese at home. Cube it, fry it, crumble it and enjoy in the dishes of your choice.
Total Cook Time

1 hr 10 mins

Ingredients of Paneer or Cottage Cheese
1 kg full cream milk
2 Tbsp sour lime juice
1.
Boil the milk, lower heat and add lime juice, stirring till the milk begins to curdle.
2.
When the whey is clear, stop adding the solution, shut off the heat and leave for about 5 minutes.
3.
Drain curdled milk through a cloth and leave to set for an hour or so.
4.
They whey left behind is very nutritious and can be used for gravies, rice, lentils.
5.
Note: In case you live in the West, or somewhere where the milk is very rich, use a less fatty milk, or else the paneer will not hold its shape