Story Progress
Back to home
Patra-Ni-Machchi Recipe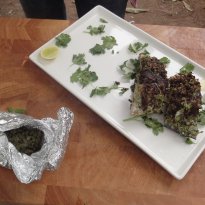 Soaked with flavours, fish is wrapped in foil and steamed.

Ingredients of Patra-Ni-Machchi
3 Tbsp oil
2 medium pomfret
1/2 cup grated coconut
8 - 10 cloves of garlic
6 green chillies
1 small bunch of coriander leaves
1 tsp salt
1 tsp sugar
2 Tbsp malt vinegar
Ingredients to Steam:
Water for the steamer
2 green chillies
4 wedges of lime
4 cloves of garlic
1 small bunch of coriander leaves
1.
Clean and skin the fish, fillet them into medium sized pieces.
2.
Make a slit in each piece and season the them with some salt.
3.
Grind the grated coconut, green chillies, garlic, salt, coriander leaves, sugar and vinegar to a fine paste.
4.
In a steamer add the green chillies, garlic, a few lime wedges and coriander leaves to the water and bring to a boil.
5.
Cover all the fish pieces with the paste and wrap them in foil.
6.
Steam the foil wrapped fish in the steamer for 15 mins or till the foil packets are puffed up.
7.
Check for doneness by flaking the fillets with a fork.
8.
Serve the fillets wrapped in foil, with some lime squeezed over the top.