Story Progress
Back to home
Peanut Butter French Toast Recipe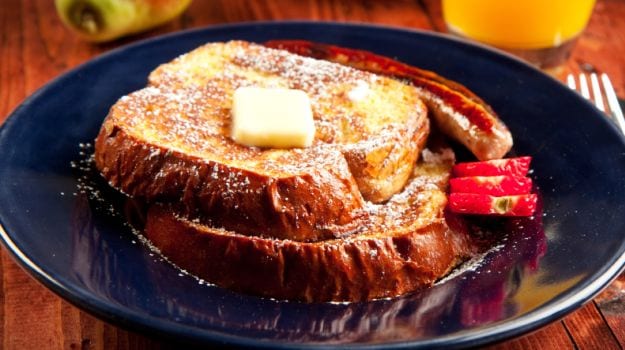 How to make Peanut Butter French Toast
Peanut Butter French Toast: This is a quick & easy recipe, this french toast recipe made of peanut butter. This delicious toast serves with berries and banana.

Ingredients of Peanut Butter French Toast
4 slices of bread
2 eggs
1/4 cups milk
1 tsp vanilla extract
1/2 tsp cinnamon
2 tbsp peanut butter
2 tbsp Butter
1.
Begin by whisking together eggs, milk, vanilla extract, and cinnamon in a bowl.
2.
Spread the peanut butter evenly onto one side of each slice of bread. If the peanut butter is too thick, you can microwave it for a few seconds to make it easier to spread.
3.
Heat a large skillet over medium heat and add the butter. Once the butter melts, dip each slice of bread into the egg mixture, making sure to coat both sides evenly.
4.
Place the bread slices onto the skillet and cook until golden brown on each side, approximately 2-3 minutes per side.
5.
Remove the French toast from the skillet and serve with maple syrup, fresh berries, or banana slices.