Story Progress
Back to home
Peri-Peri & Panko Crumbed Prawns Recipe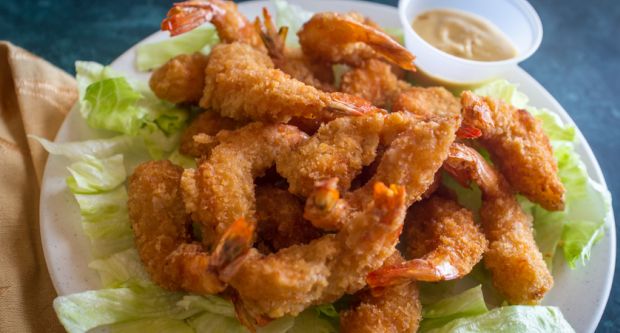 Prawns marinated in peri-peri chillie sauce, coated with crumbs and fried crisp.

Ingredients of Peri-Peri & Panko Crumbed Prawns
10 gm peri-peri chilli powder
50 gm Panko crumbs
Salt - to taste
1 lemon, juice
8 prawns
30 gm refined flour
1 egg (optional)
Refined oil to deep fry
10 chopped coriander
1.
Clean and de-vein the prawns.
2.
Marinate prawns with salt, lemon juice and peri-peri chilly powder. (for about 10-15 minutes)
3.
After marination add salt and lemon juice. Mix well.
4.
Make a batter with egg and flour. (or water and flour)
5.
Now dip the marinated prawns in the batter and crumb with panko.
6.
Deep fry in medium heated oil till it turns to golden brown in color and is cooked well from inside.
7.
Garnish with chopped coriander and serve with lemon wedge.