Story Progress
Back to home
Pesto Fish Kebabs Recipe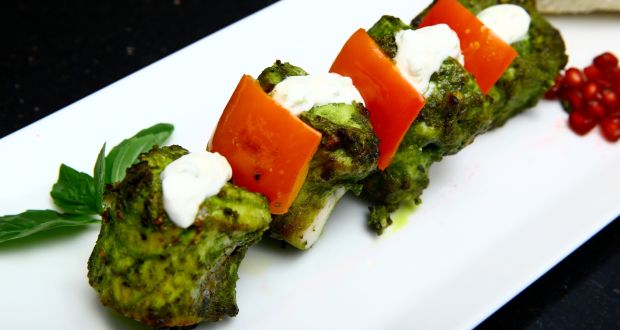 Lovely fish kebabs enhanced with the bright flavour of freshly-made pesto sauce.

Ingredients of Pesto Fish Kebabs
1/2 pounds king fish, cut into 1-inch chunks
1 red bell pepper, cut into 1-inch chunks
3 Tbsp basil pesto
2 Tbsp white wine vinegar
1/2 Tsp salt
Cooking spray
1.
Preheat broiler (tandoor will be ideal).
2.
Place fish and bell pepper in a shallow dish. Drizzle pesto and vinegar over fish mixture; toss to coat.
3.
Let fish mixture stand 5 minutes.
4.
Thread fish and pepper alternately onto 4 (12-inch) skewers; sprinkle evenly with salt.
5.
Place skewers on a jelly-roll pan coated with cooking spray.
6.
Boil for 8 minutes or until it is done to your desired degree, turning once.