Story Progress
Back to home
Poached Pear Salad Recipe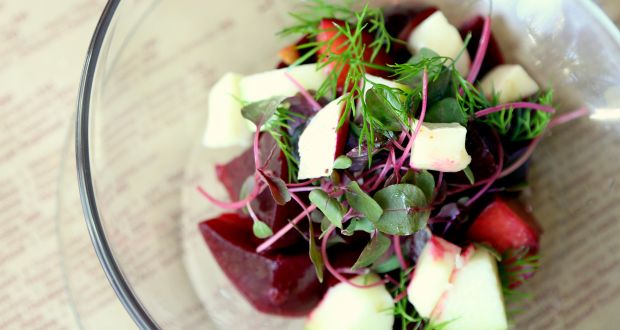 How to make Poached Pear Salad
About Poached Pear Salad Recipe: A refreshing, delicate and exquisite salad that is far different from the usual, and makes a superb summer meal.

Ingredients of Poached Pear Salad
2 Pears
1 cup white wine
1 cup water
1/3 cup sugar
2 Cloves
1 Cinnamon
For dressing:
1/4 cup organic honey
1/4 cup extra virgin olive oil
2 tbsp lime juice
4 medium radicchio leaves
4 medium romaine leaves
1 cup blue cheese
5 Grapes (cut in half)
10 Hazelnuts
For garnish:
Dil leaves
Microgreens (optional)
Prepare poached pear:
1.
Peel the pear, cut into quarters and deseed. Mix all the ingredients for the poached pear, bring to a boil and simmer on low till the pear is soft. Keep aside.
2.
Mix all the ingredients for the dressing, season and keep aside.
3.
Whip the blue cheese with a hand blender to lighten the cheese.
Prepare the salad:
1.
Cut the unpoached pear into a big dice, do the same with the poached pear.
2.
Cut the leaves into smaller pieces, add the grapes, toasted hazelnuts, both the pears and the dressing.
3.
Lightly toss, top with the whipped blue cheese.