Story Progress
Back to home
Potato Packet with Glazed Carrots Recipe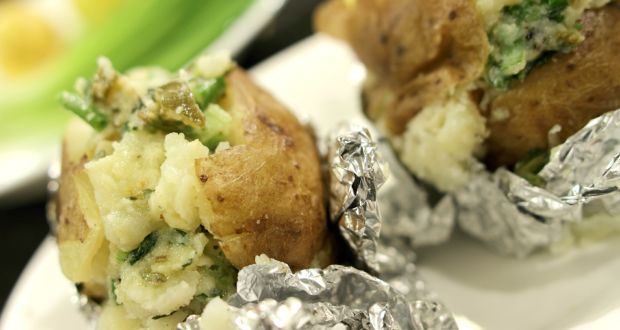 How to make Potato Packet with Glazed Carrots
About Potato Packet with Glazed Carrots Recipe: A quick and easy serving of oven baked potatoes with a cheese filling. Plate up with some sweet & spiced carrots.

Ingredients of Potato Packet with Glazed Carrots
For the potato packet:
Kitchen foil
2 Potatoes (par boiled)
Oil
Salt
5 Spring onions, chopped
Handful of Mint leaves, chopped
1 Jalapeno pepper, chopped
2 tbsp butter
2 tsp olive oil
For the glazed carrots:
4 Carrots, chopped
1 tsp cumin seeds
1 tsp fine sugar
1 tsp butter
Water
Red chili powder
Salt and pepper
Coriander leaves
Prepare the potato packet:
1.
Make 2 triangles from the kitchen foil and put 2 par boiled potatoes with the skin in each triangle
2.
Add 1/2 tsp oil and a pinch of salt.
3.
Wrap the potatoes in the foil.
4.
Pre-heat the oven at 200 degree and put the potatoes in it for 15 minutes.
5.
Mix spring onions, mint leaves, jalapeno, cheese & 1 Tbsp of butter in a bowl.
6.
Take out the potato from the oven.
7.
Open the foil and cut open the potatoes and squish them.
8.
Take out some flesh from the potatoes
9.
Fill the potatoes with cheese stuffing.
Prepare the glazed carrots:
1.
Heat a pan and drizzle it with olive oil.
3.
Flavor it with cumin seeds, fine sugar, butter, 1/2 cup water, pinch of red chili powder and salt & pepper to taste.
4.
Turn down the heat and finish it off with fresh coriander leaves.
Key Ingredients: Potatoes (par boiled), Oil, Salt, Spring onions, Mint leaves, Jalapeno pepper, butter, olive oil, Carrots, cumin seeds, fine sugar, butter, Red chili powder, Salt and pepper, Coriander leaves