Story Progress
Back to home
Prawn Pollichathu Recipe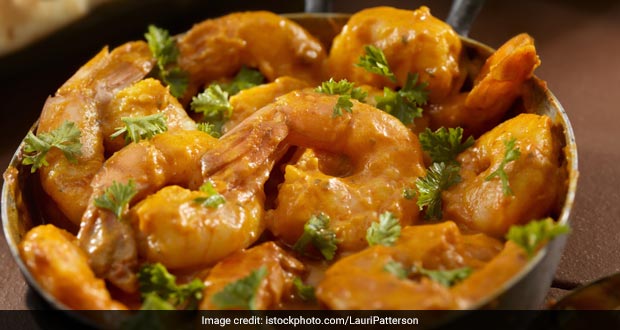 How to make prawn pollichathu
Experience the authentic flavours of Malabari seafood drizzled into juicy prawns. Prawns are marinated in spices and lime juice, cooked in an array of masalas, herbs and coconut milk.

Ingredients of Prawn Pollichathu
Marination:
6 prawns
Chilli powder
Turmeric powder
Salt
Lime juice (all of the above, as desired)
2 tsp coconut oil
Masala:
3 tsp coconut oil
1/4 tsp mustard seeds
1/4 tsp fenugreek seeds
5-6 curry leaves
2 slit green chillies
1 tsp ginger
1/2 tsp chopped garlic
1/2 chopped onion
10 uncut shallots
1 Tbsp coriander powder
1 tsp red chilli powder
1/4 tsp crushed black pepper
1/4 tsp turmeric powder
1/2 chopped tomato
1/2 cup fish stock
1/4 cup coconut milk
Salt to taste
1.
Marinate prawns in a mix of chilli powder, turmeric, salt & lime juice, keep for 10 minutes. Heat oil in pan and saute; the marinated prawns on a low flame for 5 minutes.
For the main preparation:
1.
Heat oil in a pan and crackle mustard; fenugreek seeds.
2.
Add curry leaves followed by rest of the ingredients and fish stock. Saute till onions and shallots turn brown. Add prawns and cook covered for 5 minutes. Now remove the lid and cook for another 5 minutes.
3.
Allow the gravy to reduce to a semi dry consistency. Cook till the prawns turn dark brown. Finish by adding coconut milk, give a final cook for 1/2 a minute.
4.
Add salt to taste and serve with aapam, rice or parantha.