Story Progress
Back to home
Pressed Tofu with Vermicelli Recipe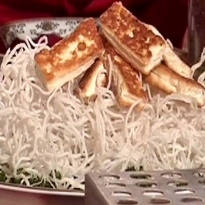 How to make Pressed Tofu with Vermicelli
About Pressed Tofu with Vermicelli Recipe: Freshly made tofu served on a plate of crisp vermicelli. A perfect snacking option.
Total Cook Time

1 hr 40 mins

Ingredients of Pressed Tofu with Vermicelli
For the tofu:
1 cup soya beans
6 cups water
2-3 tbsp white vinegar
For the starter :
Pressed tofu
4-5 tbsp ground nut oil
50 gms Indian rice vermicelli (sevian)
For the Dressing:
1 Lemon (juiced)
4 tbsp vinegar
1 tbsp minced garlic
2 tbsp coriander, chopped
2 tbsp bhura or ground sugar
to taste salt
Prepare the tofu:
1.
Soak the soya beans in water overnight.
2.
Drain, wash and grind the beans in a blender with 2 cups of water.
3.
Pour the mixture into a muslin cloth. Gradually add 4 cups of water and stir. Squeeze the pulp to extract the soya milk.
4.
Heat the extracted milk till it is hot but not boiling. Add the vinegar, increasing or decreasing the quantity till the milk begins to curdle.
5.
Now pour through a muslin cloth to drain the water and keep pressed. Wait for 20-30 mins to allow the tofu to set.
Prepare the dressing:
1.
Cut the tofu into cubes and saute them till golden brown.
2.
Heat the oil and fry the vermicelli for a few seconds till it is crisp.
3.
Put all the ingredients of the dressing in a bowl and whisk together.
4.
Place the vermicelli on a platter, sprinkle some salt over it, top it with the tofu and drizzle the dressing. Serve immediately