Story Progress
Back to home
Pumpkin Crumble with Singhara Atta Recipe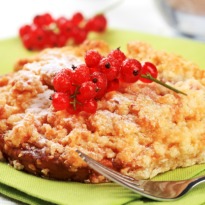 An easy pumpkin crumble recipe made with singhara atta (waterchestnut flour), so you can substitute all purpose flour during Navratras with something exotic.

Ingredients of Pumpkin Crumble with Singhara Atta
100 gm butter
100 gm castor sugar
100 gm ground walnuts
100 gm singhara ka atta
For the Base:
100 gm hung curd
1 Tbsp honey
2 Tbsp icing sugar
Grated rind of 2 oranges
150 gm cooked and pureed pumpkin
1 segmented orange
A pinch of cinnamon powder
1.
Beat butter and sugar together. Add chopped walnuts and singhada ka atta.
2.
Shape into biscuits and bake at 170 degrees C for 10-15 minutes. Remove from oven, cool and crumble.
For the Base:
1.
Combine the hung curds and pumpkin puree.
2.
Beat well and mix in the honey and icing sugar. Add the orange segments.
3.
Place in a serving bowl and press the crumbled biscuits on top.
4.
Dust with icing sugar and cinnamon. Serve chilled.