Story Progress
Back to home
Quinoa And Sesame Crackers With Orange Hummus Recipe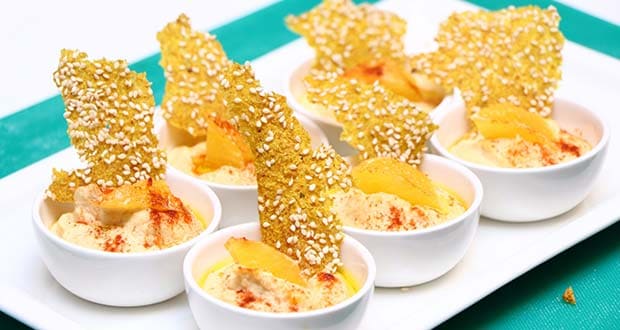 How to make Quinoa and Sesame Crackers with Orange Hummus
A healthy snack to crunch on while sipping your cup of tea.

Ingredients of Quinoa And Sesame Crackers With Orange Hummus
200 Gram White Quinoa
500 ml Water (to cook Quinoa)
1/2 tsp Baking Powder
50 gram Rice flour
5 gram Salt
15 gram Sesame seeds
2 nos Fresh Oranges
150 gram Chickpeas (boiled)
20 gram Tahini Paste
2 pinch Smoked Paprika
to taste Salt
How to Make Quinoa And Sesame Crackers With Orange Hummus
Hide

Show

Media
1.
Preheat the oven to 350°c.
2.
Bring quinoa to a boil over moderate heat and simmer until fully cooked and porridge like consistency is achieved.
3.
Remove from the heat and allow it to cool.
4.
Add baking powder, rice flour, season with salt and mix well to combine.
5.
Spread the quinoa batter on to the sil pat with the help of a spatula.
6.
Sprinkle the sesame seed and bake for 10-12mins.
7.
Remove from the oven and allow it to cool.
8.
Prepare the orange zest using the fine side of your grater. Once the zest is removed, cut the orange in to half and squeeze the juice from orange.
9.
In a Food Processor, add boiled chickpeas, orange juice, tahini paste, smoked paprika, salt and process until well combined.
10.
Transfer hummus to a serving bowl and check for seasoning. Serve with quinoa crackers. Enjoy!