Story Progress
Back to home
Quinoa Pancakes Recipe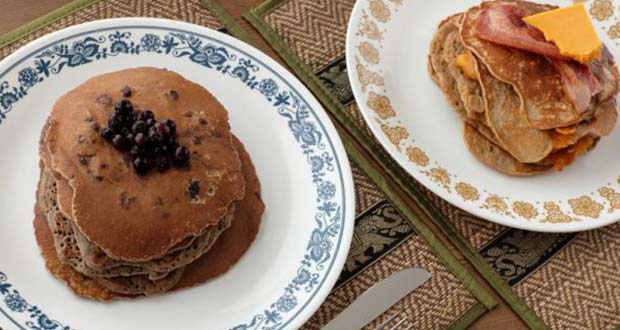 Give a healthy spin to your morning breakfast with this easy-to-make quinoa pancakes. Top it with some fresh fruits and indulge!

Ingredients of Quinoa Pancakes
2 cups quinoa flour
2 Tbsp light brown sugar
2 tsp baking powder
1 1/2 cups milk
½ tsp salt
2 Tbsp honey
2 eggs
Oil or butter to cook
1.
Combine all your dry ingredients in a large mixing bowl.
2.
In another bowl, add all your wet ingredients and make sure everything is properly mixed. Then add the wet ingredients into the dry, mix thoroughly and let stand. The batter should be a little thick.
3.
Meanwhile, add a little oil or butter into your pan or skillet and heat it. You can use butter for a more voluptuous tasting pancake or oil for a healthier one (my favourite is coconut oil; I use it in everything!). Turn down the heat.
4.
Pour a laddleful of the batter onto the pan and let it cook until you see little bubbles forming on the surface of the pancake, which is your sign to turn the pancake over and cook it for about two minutes on the other side.
5.
Serve with chopped fresh fruit, maple syrup, chocolate sauce or butter.