Story Progress
Back to home
Red Cooked Chicken Recipe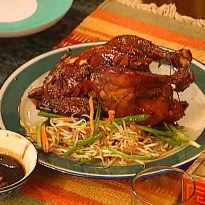 Chicken stirred over low heat with spices, sauce and seasoning, served with a bean sprout salad.

Ingredients of Red Cooked Chicken
1 chicken - whole with skin
250 ml soya sauce
200 ml chicken stock
50 ml rum
1
4 star anise
1 Tbsp whole garlic cloves
1 1/2 Tbsp grated jaggery
2 tsp sesame oil
1.
Combine all ingredients except the chicken in a deep pan.
3.
Place chicken, breast side down in the pan.
4.
Simmer the chicken until tender, turning and basting at regular intervals.
5.
Remove from the pan and serve with the sauce and salad.
6.
Serve with bean sprout salad.