Story Progress
Back to home
Rice Noodles with Stir Fried Chicken Recipe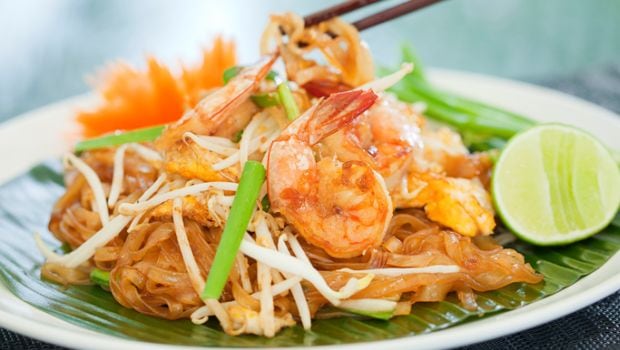 How to make Rice Noodles with Stir Fried Chicken
Rice noodles tossed with stir fried vegetables, chicken and calamari. Topped with toasted peanuts for that extra crunch.

Ingredients of Rice Noodles with Stir Fried Chicken
1 bowl rice noodles (re-hydrated), small
1 tsp soya sauce
1 tsp lime juice
1 red chilli, chopped
for garnishing coriander
for garnishing peanuts (toasted)
for garnishing spring onion greens
For the stir fried chicken:
1 Tbsp oil
2 chicken breast (cut into thin strips)
250 gms calamari (optional)
1 tsp soya sauce
1 tsp oyster sauce
1 Tbsp lemon juice
For the stir fry:
1 onion, sliced
1 tsp oil
1/4 capsicum
1/4 yellow bell pepper
1 small bowl Chinese cabbage
2 cloves garlic, minced
to taste salt
Prepare the stir fry:
1.
In a pan add oil, onions, capsicum, yellow bell peppers. Saute.
2.
Add the Chinese cabbage, minced garlic and salt. Keep aside.
Prepare the stir fried chicken:
1.
In a bowl marinate the chicken and calamari with soya sauce, oyster sauce, lemon juice.
2.
Stir fry it in a pan with some oil till done.
Prepare main dish:
1.
In the pan with the stir fried chicken add the rice noodles and stir fried vegetables.
2.
Add soya sauce, lime juice, red chillies. Toss and add coriander leaves.
3.
Garnish with toasted peanuts and spring onion greens.