Story Progress
Back to home
Saffron Scented Apples Recipe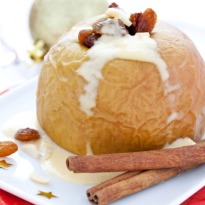 A simple dessert that is sure to leave your guest delighted. Apples filled with a scrumptious khoya and dry fruits mixture, drizzled with a sugary saffron syrup and baked.

Ingredients of Saffron Scented Apples
4 whole apples, peeled and cored (remove the tough central part and seeds)
For the Filling:
100 gm khoya
3 Tbsp sugar
2 Tbsp raisins
2 Tbsp fresh grated coconut
1/4 tsp cardamom powder
1 Tbsp pistachio nut paste
1/2 tsp saffron strands
1 Tbsp warm water
4 Tbsp sugar syrup (Chashni: Boil sugar and water to make this)
Few drops of kewra
1.
Set each apple on a large square of foil.
To Prepare the Filling:
1.
Melt khoya till lightly brown.
2.
Add sugar and continue cooking for two - three minutes before adding coconut, spice and nut paste.
3.
Cool and use to fill the apples.
4.
Soak saffron strands in warm water for 15 minutes.
5.
Pound before adding to sugar syrup with kewra.
6.
Spoon syrup over each apple and wrap foil around the fruit.
7.
Bake at 180 degrees C for about 30 minutes or until tender.
8.
Serve hot with chilled cream of phirni.