Story Progress
Back to home
Sambal Goreng Udang Recipe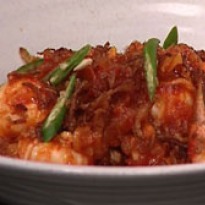 Prawns cooked in a spicy oriental sauce. This chilli prawn recipe is full of oriental flavors.

Ingredients of Sambal Goreng Udang
32 small prawns
4 Tbsp onion - sliced
40 gm ginger
40 gm onion
40 gm garlic
120 gm red chilli paste
60 ml tomato puree
10 cm galangal slice
10 cm lemon grass
4 salam
60 ml tomato ketchup
40 ml oil
Salt and pepper - to taste
4 green chillies - diced
4 red chillies - cut into pieces
2 onions - sliced and fried
For Sambal Ulek (Paste)
25 chillies
White vinegar
2 tsp Salt
1.
Heat 40 ml oil in a wok. Add the sliced onion and the prawns. Saute for one minute.
2.
Add sambal sauce to the prawns and toss for five minutes or till done. Remove from heat.
3.
Garnish with sauteed onion, diced red chilli and green chilli.
To Prepare the Sambal Sauce:
1.
Heat oil in a wok. Add the sambal paste and all the remaining ingredients.
2.
Keep stirring for 30 minutes. Add salt and pepper to taste. Remove from heat. When cool, store in an airtight jar in a refrigerator.
4.
Wash the chillies; remove the stalks, but not the seeds.
5.
Put the whole chillies into the jar of a blender, add about 1/2 tablespoon of vinegar then blend.
6.
If the chilli paste is too thick and chunky, add a little more vinegar, blend again: it should become a smooth paste. Then stir in the salt.