Story Progress
Back to home
Scots Christmas Pudding Recipe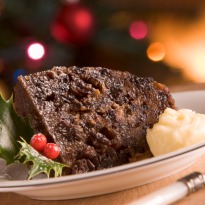 A perfect Christmas pudding of raisins, apples, dates and warm flavors like cinnamon, ginger, honey, a dash of rum etc.

Ingredients of Scots Christmas Pudding
100 gm flour
2 tsp cinnamon powder
1/4 tsp ginger powder
1 tsp of nutmeg
100 gm fresh bread crumbs
100 gm grated gur / sugar
150 gm chilled butter
400 gm raisins
1 apple-peeled and sliced in small pieces
50 gm dates-stoned
2 Tbsp honey
2 rind of lemons, grated
Juice of 2 lemons
2 eggs
60 ml whiskey
1 tsp caramel colour, burnt sugar
To finish:
2 Tbsp castor sugar
2 Tbsp whiskey
For the rum butter:
100 gm butter
2 tsp orange rind
100 gm icing sugar
3 Tbsp rum
1 Tbsp orange rind
1.
Mix flour, cinnamon powder, ginger powder and nutmeg.
2.
Stir in breadcrumbs & the sugar.
3.
Rub butter into flour with fingertips.
4.
Now add the raisins, apple, dates, honey, lemon rind, lemon juice, 2 eggs, whiskey, and caramel color to darken.
5.
Mix all well to form a smooth batter.
6.
Pour the batter into oiled pudding tins. Cover with butter paper and tie with some foil. Cook in a pressure cooker for 30-40 minutes or till puddings are firm to touch.
7.
When cool place in an airtight box and store in a cool place.
8.
While serving, turn out onto a warm platter, sprinkle some castor sugar and flambe with whisky. Flambe is a type of gl;aze done on cake sand puddings. For this just heat a little whisky in a spoon and as it bursts into flames pour over the dessert.
10.
Beat the sugar and butter with the rind until soft.
11.
Gradually beat in rum & orange rind to flavor.
12.
Chill well before serving with the hot pudding.