Story Progress
Back to home
Scrambled Eggs with Chicken Sausages Recipe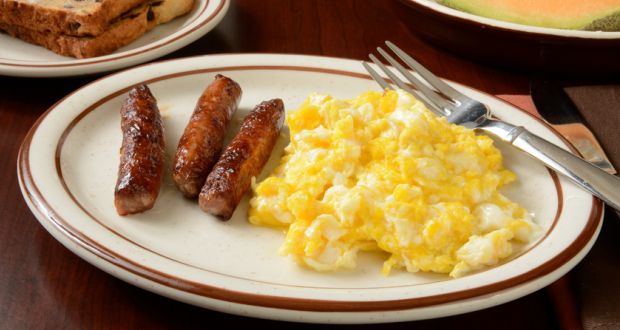 How to make Scrambled Eggs with Chicken Sausages
About Scrambled Eggs with Chicken Sausages Recipe: Smack your lips on this simplest and easiest to prepare scrambled eggs tossed in mild spices with chicken sausages. A delicious and balanced breakfast spread that you can relish each and every morning.

Ingredients of Scrambled Eggs with Chicken Sausages
1/2 Onion, chopped
1 Potato , chopped
2 Chicken sausages (sliced)
3 tbsp olive oil
6 Eggs
To flavour salt and pepper
2 tbsp cheese, grated
Handful of spring onions, chopped
Butter (to spread)
Burger buns
1/2 cup milk
1.
Heat up the pan with olive oil.
2.
Put potato into the pan and fry till it turns a golden brown color.
3.
Put the chicken sausages in the pan and toss them.
4.
Now add onions into the pan along with salt & pepper.
5.
Turn off the heat and transfer them into another pan.
6.
Beat the eggs to a mixture and add milk, and cheese and whisk.
7.
Heat the pan and add both the mixtures, and cook on low heat.
8.
Then gently scrape the bottom and add salt, pepper and sprinkle some spring onions.
9.
Preheat the oven at 240 degrees for 5 minutes.
10.
Spread butter on the buns and grill them for 4 minutes in the oven.
11.
Garnish with spring onions.