Story Progress
Back to home
Seared Duck Breast On A Tower Of Aromatic Herbed Rice Recipe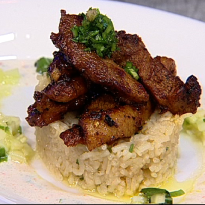 Duck breast seared, served with a hot spicy chutney mix on a tower of herbed rice.
Total Cook Time

1 hr 15 mins

Ingredients of Seared Duck Breast On A Tower Of Aromatic Herbed Rice
6 duck breasts
1 tsp red chilli powder
1 tsp turmeric powder
3 tsp salt, or to taste
1 cup oil
2 tsp cumin seeds (jeera)
1 tsp coriander seeds
2 tsp carom seeds (ajwain)
Juice of 1 orange
2 tbsp jaggery (gur)
6 tbsp malt vinegar
1 onion, fried
1 cup chicken stock
2 tsp garlic, chopped
1 cup rice
2 bunches fresh coriander, chopped
1 bunch fresh basil
3 tbsp butter
1/2 cup yogurt
1/2 cup double cream
Juice of 2 lemons
1 tsp red chilli flakes
1 tsp garam masala, ground
For Garnishing:
2 raw mangoes (keri)
2 cucumbers
1 spring onion
How to Make Seared Duck Breast On A Tower Of Aromatic Herbed Rice
Hide

Show

Media
1.
Salt the duck breast, and spice it with red chilli powder, turmeric powder and salt.
2.
Cook in oil, braising the meat with all the other masalas, ie cumin seeds and a ground mix of coriander seed and carom seeds.
3.
Squeeze some orange juice onto the duck and add little garlic.
4.
Add in jaggery and malt vinegar and let it all cook together in order to reduce masala mix to get a chutney.
5.
Make a stock for the rice by browning onions and adding in chicken stock, cumin seeds, red chilli powder, salt and water plus some chopped garlic.
6.
Then add in washed rice and let it cook till rice is done. Take equal proportions of rice to water.
7.
Once the rice is done, add in chopped coriander, basil and butter to further soften the rice, making it similar to risotto. Add a little lemon juice also.
8.
Make a sour cream with yogurt and double cream, adding lemon juice, salt and some red chilli flakes. Heat some of the ground garam masala and also mix that in.
9.
Finely chop raw mango (keri) and spice it with lemon juice and salt. Mix with a little cucumber and spring onion. Use as a garnish on the sour cream around the herbed rice and duck.
10.
Layer the rice and duck together and serve with cucumber, spring onion and keri.