Story Progress
Back to home
Sesame Chicken Recipe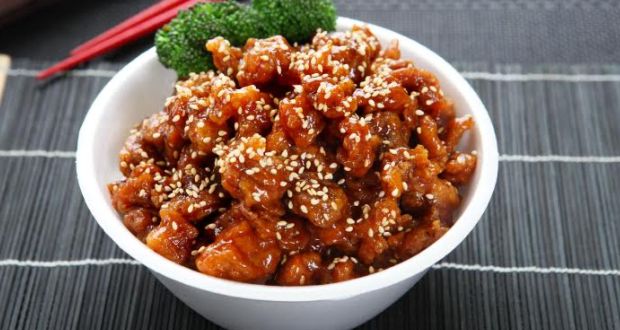 How to make Sesame Chicken
Chicken baked with sesame seeds and sesame oil, served with mushrooms, spring onions and tomatoes.

Ingredients of Sesame Chicken
4 Boneless Chicken breasts
4 tbsp Flour
4 tbsp Sesame seeds
3 tbsp Sesame oil
100 gram Mushrooms
100 gram Spring onions, chopped
1 Ginger (peeled, shredded), shredded
1 tsp Garlic, chopped
1 tsp Coriander seeds (crushed)
4 Tomatoes (skinned and quartered)
2 tbsp Vinegar
Green lettuce leaves
Potato matchsticks or potato wedges
1.
Cut each chicken breast into bite- sized pieces.
2.
Dust with seasoned flour combined with sesame seeds.
3.
Drizzle with 2 tsp of oil and bake in a preheated oven at 200 degrees C for 8-10 minutes.
4.
Heat remaining oil in a large pan. When hot, dip in mushrooms, spring onions, garlic, ginger, coriander seeds and tomatoes.
5.
Cook for 2-3 minutes before adding chicken to pan. Allow it to heat through.
6.
Then add vinegar. Serve immediately on a bed of lettuce leaves. Garnish with potato matchsticks.