Story Progress
Back to home
Shrimp Tellicherry Biryani Recipe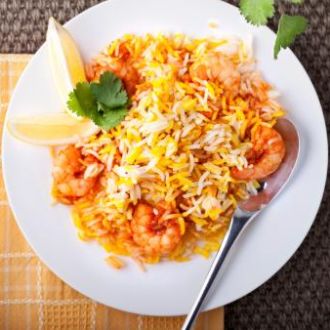 Here is a recipe to create a mouth watering shrimp Biryani. The shrimp is cooked in a spicy masala, and then layered with rice before keeping it on dum.
Total Cook Time

2 hrs 15 mins

Ingredients of Shrimp Tellicherry Biryani
For shrimp marinade:
1 tsp chili powder
1/2 tsp turmeric powder
salt to taste
2 Tbsp vegetable oil for frying
For the biryani masala:
1/2 kg shrimp
3 large onions, sliced very finely (250 g)
10 green chilies, crushed to a paste
1 Tbsp ginger-garlic paste
1 tomato, sliced into 1/2'
1/2 Tsp turmeric powder
1 Tsp chili powder
1/2 Tsp garam masala
2 Tsp coriander powder
1/3 cup coriander leaves, chopped
2 Tbsp ghee
juice of 1 lime
For the rice:
3 cups jeera shaala rice, washed well and drained
1 small onion, sliced finely
6 cups boiling water
3 leveled tbsp ghee
To assemble:
1 Tsp garam masala
1 Tsp saffron ground in 1 Tbsp hot water
1.
Marinate the shrimp for at least half an hour, fry lightly and set aside.
For Biryani Masala:
1.
Heat 2 tbsp ghee on medium flame and fry the onions till very soft and almost brown.
2.
Add the green chili paste and ginger-garlic paste and sauté until the raw smell disappears.
3.
Add the turmeric powder, chili powder, garam masala, coriander powder and tomatoes. Add
4.
salt as required and sauté for 1-2 minutes.
5.
Now, add the shrimp, stir well and close the vessel for 5-7 minutes.
6.
Next, squeeze in the lime juice, add the coriander leaves, and adjust seasoning as required.
7.
Remove from heat when it reaches a thick-ish consistency and coats the back of your spoon.
For Rice:
1.
To prepare the rice, heat the ghee in a medium sized pot and fry the onions till soft and translucent.
2.
Add rice and mix well until it is coated with the ghee.
3.
Add the boiling water and salt to taste.
4.
Let it boil until the water reaches the same level as the rice.
5.
Now reduce the heat, cover the pot and cook for 13-14 minutes, stirring gently once in between.
To Assemble:
1.
Preheat oven to 150 degrees Celcius.
2.
In an oven-proof dish, layer the dish alternately with the shrimp masala and the rice, with the masala forming the bottom layer. Three layers is ideal.
3.
In between each layer, sprinkle garam masala and saffron.
4.
Cover with foil and keep in the oven for 20-30 minutes.